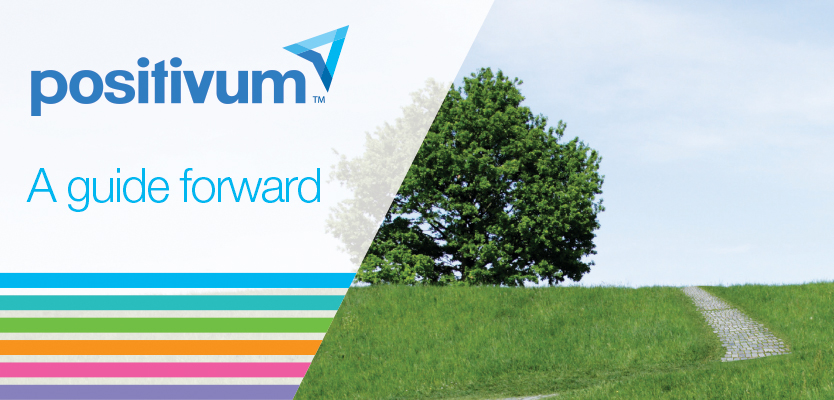 Beliefs and perceptions about work and health
After many years in injury management and workplace rehabilitation, IPAR identified that it is often not the injury or condition that precludes an individual from successfully obtaining and sustaining employment, but rather their beliefs and perceptions in relation to their health, ability / disability, and working.
Literature also supports the importance of identifying and addressing biopsychosocial factors, as these can often be more important than the actual injury / diagnosis itself.
IPAR has developed an assessment tool in partnership with Monash University – Positivum™ – which assesses beliefs and perceptions relating to health and work, as well as expectations for recovery and commencement of work, self-confidence, coping skills, management of pain and daily functioning.
The Positivum assessment is an on-line biopsychosocial assessment. It contains 15 questions focused on beliefs and perceptions in relation to health and work, as well as expectations regarding recovery and return to work.
The Positivum assessment has been developed by IPAR, in conjunction with Monash University (representatives from the Faculty of Medicine, Nursing and Health Science and Injury Research Institute).
The balance of the assessment contains:
Fear Avoidance Beliefs Questionnaire (FABQ) (modified) Waddell, Newton et al. (1993)
Oswestry Low Back pain Disability Questionnaire (modified) Fairbank, Pynsent 2000
Kessler Psychological Distress Scale (K6), Kessler, Andrews et al. (2002)
General Self Efficacy Scale (GSE-6). Schwarzer & Jerusalem (1995)
Quality of Life Questionnaire (QLQ-30) (Health & QoL items). Aaronson, Ahmedzai et al. (1993)
The findings from the assessment provide a useful 'snapshot' of potential barriers to working and full recovery, as well as areas that may be useful enablers to full recovery and work potential.
Factors include:
Expectations
Health beliefs
Work beliefs
Employer perceptions
Pain management
Daily functioning
Coping skills
Self-confidence
General health

Health coaching – a guide forward
The Positivum™ assessment highlights areas that are likely to be barriers to optimal recovery and remaining at or returning to work. A subsequent tailored health coaching program focuses on addressing these areas. Evidence based and with a strong emphasis on self-management, the coaching is conducted by experienced IPAR consultants as part of the rehabilitation process.
Specific topics covered are dependent on the results of the Positivum™ assessment, but can include:
Beliefs and perceptions
Values
Goal setting
The health benefits of work
Living with your health condition, including pain, pacing techniques, improving sleep,
building resilience and managing stress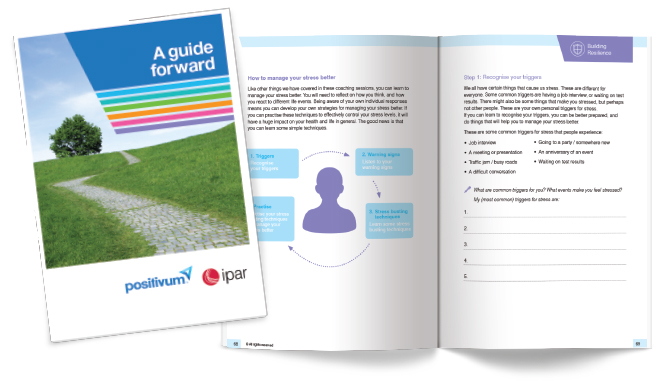 Positivum – a guide forward after cancer
Every year in Australia, 140,000 people are diagnosed with cancer. While most cancer types are on the rise, early diagnosis and increasingly effective treatment means that more people than ever before are surviving.
40% of the number of people diagnosed each year are of working age. For this group, the transition towards becoming a 'cancer survivor' and thinking about work can be complex.
Survivors attempting to remain at or return to work are managing symptoms related to treatment. They may also experience challenges such as job retention, the need for modified hours, duties or role type, and potentially a change in employer.
Add to that the profound effect of cancer on a person's outlook, values and priorities, and the complexity of beliefs and perceptions around health and work. The result is that cancer patients are at greater risk of unemployment than the general population.
It is important for service providers, health professionals and employers to provide timely assistance to help cancer survivors overcome a myriad of barriers and make an appropriate, timely return to work.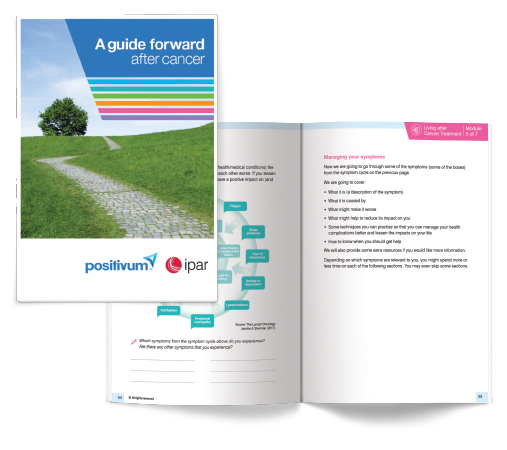 Positivum – a guide forward after trauma
Anybody can be impacted by trauma, whether this originates in their upbringing or through events later in life, be it at work or in their personal life.
Across their lifetime, approximately 60% of Australians will be exposed to a potentially traumatic event, and of this group, around 20% will develop Post Traumatic Stress Disorder (PTSD). In any given year, there is approximately one million Australians experiencing trauma reactions in the form of PTSD.
Post-trauma symptoms may include disturbing thoughts, mental or physical distress in response to trauma-related triggers, alterations in how a person thinks and feels, and an increase in the fight-or-flight response.
People who have been exposed to trauma and are experiencing post-trauma reactions or PTSD often find remaining at or returning to work difficult. Understanding trauma reactions, coming to terms with the experience and re-setting survival systems is an essential part of managing the condition and returning to everyday life.